The road to recovery of the industry 2012 China Furniture Industry Development Summit Forum
In the furniture market in the first half of 2012, some enterprises are still creating miracles and contrarian growth, and some enterprises are bleak and even exit. At this crossroads, some companies wanted to turn around gorgeously, but they didn't want to smash their heads in the corner. And some companies, regardless of how difficult the market is, can dance on long sleeves on the tip of the knife or run on the wire rope with their ankles. Then, when will the Chinese furniture industry set aside the fog and embark on the road to recovery?
Based on this, on September 5, 2012, Sohu Home, Sohu Home Furnishing Channel and Dongguan Famous Furniture Club jointly hosted the "Recovery Road – 2012 China Furniture Industry Development Summit Forum". At the forum, Sohu Home invited Chen Baoguang, the vice chairman of the China Furniture Association, to share the development of the furniture industry in the first nine months of 2012. In addition, he also invited Chen Qinghua, senior consultant of the Hong Kong Furniture Association, and the Deputy Secretary General of the Circulation Expert Committee of the China Marketing Association. Wang Xianqing, director of the Institute of Circulation Economics of Guangdong University of Commerce, and Xiao Xiaoping, general manager of China United Real Estate Second-hand Housing Research Institute, delivered keynote speeches to help furniture people see the future development of the furniture industry more clearly. In the dialogue session of the forum, Sohu Home specially planned the innovative mode of AB opinion debate. Furniture giants and industry veteran dealers shared the current difficulties in the industry and explored solutions.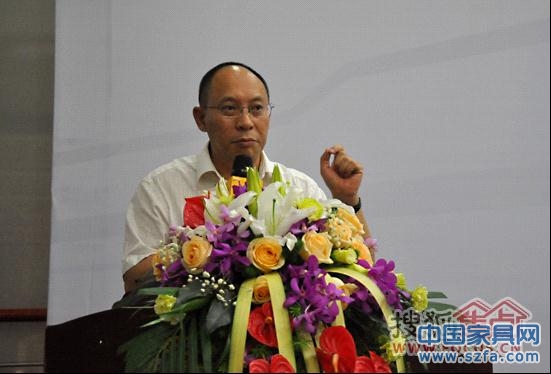 Chen Baoguang, Vice Chairman of China Furniture Association
Chen Baoguang: The furniture industry needs to calm down and judge how to go in the future.
Mr. Chen Baoguang, Vice Chairman of China Furniture Association, first congratulated the success of the forum. In addition, Chen Baoguang briefly explained the industrial output value, sales and exports of the entire market in the first half of this year, indicating that although the entire Chinese economy is currently experiencing growth, in fact, the domestic market sales volume has decreased compared with the same period of last year; meanwhile, he It also analyzes the current status of the entire home industry, reminds enterprises and distributors, and pays more attention to the third and fourth line and low-end furniture market.
When talking about this year's Dongguan Furniture Fair, he agreed with the opinion of Daihu, the editor-in-chief of Sohu. In his view, in fact, every year in September, it is definitely worse than in March, but cold is not necessarily a bad thing. Cold is not a bad thing for the Chinese furniture industry. I hope that everyone will calm down and calm down. I will judge the road that I should take in the future. Now I am going to develop a little bit of head, a little dizzy, a few The construction of all development zones is more than 50,000 square meters of construction area, such as Pearl, all friends must be put into production, plate furniture should not be done, the remaining furniture supply is not much problem, our production capacity will not be bad .
In terms of manufacturing, should we consider the issue of upgrading at this time point? German Chancellor Merkel came to China to inspect why the two countries will go together because they are all big countries, China is a developing country, and reform and opening up is only 30. For many years, industry has been in its infancy. In the past, we listened to Deng Xiaoping that the primary stage of socialism will take 100 years to understand. After the financial crisis, the United States also proposed re-industrialization. Now there is a book, "The Third Industrial Revolution," Can you give up manufacturing? At which point we made our manufacturing, we are still at a fairly low end. In China's furniture manufacturing, there is still a long way to go. On this basis, there are conditions to talk about brands, talk about the market, no branding, no market, and there are too many topics to talk about.
Tired of your expensive non-stick cookware getting destroyed by stainless steel spatulas? Or of old plastic utensils melt and break easily?
Nylon Kitchen Utensils can handle any type of cooking while being gentle on your pan and pot. These professional Nylon Kitchen Tools Set are constructed of strong nylon, which can withstand temperatures up to 400 degrees Fahrenheit or 204 degrees Celsius. They won't bend or break when you turn your meat or mix a salad.Nylon Cooking Utensils are designed with unique ergonomic grips, and their slip-resistant coating provides a firm, comfortable grip and prevents slippage while cooking.
Nylon Kitchen Utensils,Kitchen Tools,Nylon Kitchen Tools Set,Nylon Cooking Utensils
RealSheen Lifestyle Enterprise Limited , https://www.realsheen.com