The overall home is favored by consumers with a complete service.
Pursuing a one-stop consumption approach and paying attention to the experiential consumption experience, the current trend of "soft and hard" services in the home market is gradually becoming apparent. On the one hand, the home improvement company hopes to provide the overall home improvement service, adding more products besides "hard-packing"; on the other hand, the furniture brand wants to develop to "softer", with more product types, even from decoration to products. To the full service of jewelry to attract consumers.
"Overall home" pace accelerated
Recently, the reporter visited the large and small home shopping malls in Xiangtan City and found that the "overall home" pace has accelerated significantly. According to the person in charge of a home shopping mall in Xiangtan City, they introduced the concept of a holistic home, even the decoration of flowers, decorative paintings and other home accessories are taken into account. "In the future, when consumers choose, they don't need to buy a coffee table here, and they buy a sofa there. The matching of household products is very strong, and it is also very good for the supply and after-sales problems."
In fact, the concept of overall home is not a fresh topic. In addition to the furniture brand's launch of products including decorative and soft-packed products, home brands and home improvement brands have also shown their tendency to extend to each other.
Not only that, but some furniture brands are also striving to improve their products in the store to provide "lifestyle" to sell products. "The brand with personality and white-collar lifestyle that meets our positioning has been included in our bag. We have adjusted the store structure according to the structure of the house and the lifestyle of the home, and it is closer to life and creates a way of experience." A certain furniture in Xiangtan City The person in charge of the brand store said.
Caused by consumption trends
The direct cause of the overall home is the change in consumer spending habits. "The whole home is a one-stop service, providing consumers with faster service and products." The person in charge of the home shopping mall said that the purpose of the additional decoration business is to provide extended services to customers. "In the past, when customers came to buy furniture, we often asked if we had a decoration business and whether we could provide integrated services. In response to this demand, we launched the home improvement business."
The person in charge of a decoration company also mentioned: "We found that there are still many consumers who come to the company to request custom furniture. They also have a variety of customized products, bookcases, dining tables, etc., and the demand is also large. It is related to the modern people's demand for fast consumption."
Even if the business does not take the initiative to launch, the impact of a single product on consumers in the terminal is getting weaker, which also becomes the reason for the merchant to launch the overall home improvement. The person in charge of the home shopping mall said in an interview that if only the panel furniture is used and the software is not very strong, it is likely that a large number of customers will be lost. Conversely, the store needs a lot of things to support its entire image, and terminal sales also need related supporting products to support the entire sale. If you only make a sofa, you will obviously be constrained in many ways. Currently, single products are increasingly difficult to survive. Therefore, they will focus more on this piece, focusing on overall development and R&D support.
Industry voice: "It's very difficult to provide a whole home."
According to an industry insider, compared with furniture brands, home improvement companies can really reach out to consumers and get to know consumers' shopping needs. This may be the reason for extending home improvement business. But he believes that the company will be very difficult to enter a non-professional field. Some companies try to provide overall home improvement services. He believes that in order to achieve such a level of business, companies must have design capabilities, product integration capabilities, and provide reasonable prices. Facts have proved that the current home improvement companies in Beijing and even the whole country, who have no ability to provide the overall home improvement services, at best, only gain a core competitiveness in a certain part of the industry chain. The home industry chain is very long, and if the surface is widely spread, the products can't keep up.
Silicone Water Bottles
Our Silicone Collapsible Water Bottles are made of 100% medical grade silicone and 100% food grade PP material, medical grade silicone
is the same material as baby nipple; all of them are FDA, BPA free, LFGB certifications approved, can be fold into a wallet size after drink up,
that will save a lot of space for your bag when you are traveling, sporting and doing other outdoor activities.
We are honored to be trusted by Nike, New Balance, Locknlock, Target, Wal-mart for over 8 years, all of our foldable water bottles are deisgn
and producing by our own factory, we have a experienced R&D team, skilled worker, strict QC team, passional sales team and after service team
that can provide you one stop solution for our order, please contact our sales to start this happy journey.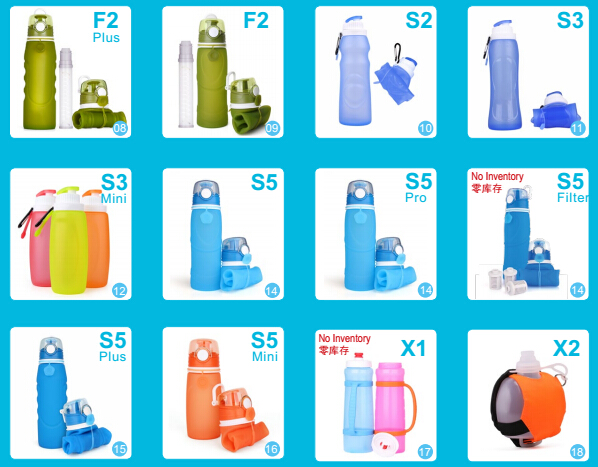 For more: Outdoor Collapsible Silicone Water Bottles, Sport Foldable Silicone Water Bottles, Filter Silicone Water Bottles , Insulate Silicone Water Bottles
Silicone Water Bottles
Silicone Water Bottles,Silicone Collapsible Water Bottles,Custom Water Bottles,Collapsible Water Bottle
Shenzhen Kean Silicone Product Co., Ltd. , https://www.keansilicon.com